Announcement: Migraine Science Collaborative Launches Revamped Platform Dedicated to Advancing Research and Building Community
North Kingstown, R.I. – The Association of Migraine Disorders is pleased to announce the launch of the revamped Migraine Science Collaborative (MSC), a one-of-a-kind global news and information resource hub dedicated to accelerating research advances in migraine and headache diseases.
Guided by a world-class editorial board of scientific investigators and clinicians, MSC is designed for the community of migraine and headache basic scientists, clinical researchers, and clinicians to access cutting-edge news, opinion, and multimedia content, as well as collaboration opportunities among colleagues and experts in the field.
"We are thrilled to launch a reimagined Migraine Science Collaborative for migraine researchers and clinicians," said Neil Andrews, executive editor of MSC. "There is a real need for a central place where the global migraine community can convene for the latest news, information, and insight.
"Our aim is not only to keep readers up to date with the newest developments in the field, but also to spark conversation and debate among our members and readers. It is this facilitation of meaningful interaction between expert researchers and clinicians that will help move the field forward."
Join the Migraine Science Collaborative
MSC produces original research news and opinion pieces, literature recaps, data visualizations, podcasts and webinars, and provides professional resources including grant opportunities, job postings, and event listings.
A free MSC membership enables readers to contribute material to the platform, sharing their knowledge and ideas with a wide audience of expert researchers and clinicians across many specialties and disciplines. Becoming an MSC member also helps build the migraine and headache community, which will attract more people to learn about and work in the field and increase its visibility.
MSC is geared primarily to professionals working in any area of migraine research and/or care. MSC welcomes members at all career stages, including undergraduate students, graduate students, and postdocs, as well as investigators at more advanced career levels working in academia, government, companies, and other settings.
Visit MigraineCollaborative.org to become a member for free.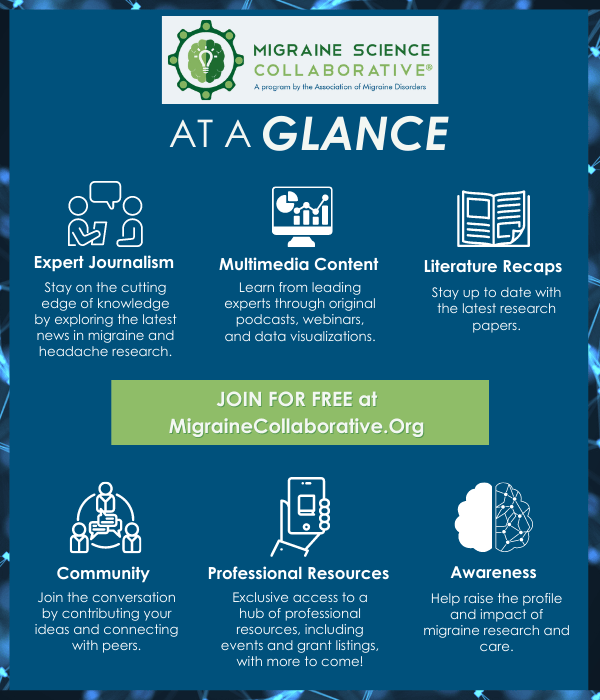 What makes the Migraine Science Collaborative unique?
Migraine is one of the most common and disabling health disorders worldwide, and yet it remains under-recognized by healthcare providers, policymakers, and the wider public. Many people with migraine do not respond to current treatments, and they are often stigmatized by society, further increasing the burden of the disease. And, despite the overwhelming need for better treatments and improved understanding, research into this condition remains woefully underfunded.
MSC is helping to overcome these difficulties. With its consistent and exclusive focus on covering migraine and headache research for expert researchers and clinicians, MSC is uniquely positioned to advance the field. It provides a distinctive breadth of content, including news, interviews and podcasts with experts, literature reviews, data visualizations, and much more.
MSC is the nexus of news, insight, opinion, and ideas for the global community of migraine scientists and clinicians. This will advance research and care and bring greater attention to migraine and headache disorders.
Follow the Migraine Science Collaborative
Stay up-to-date with MSC by signing up for the monthly digital newsletter and by following us on LinkedIn, Twitter, and Facebook.
MSC is guided by a world-class editorial board of scientific investigators as well as clinicians. It is published and financially supported by the Association of Migraine Disorders (AMD), a non-profit organization that strives to expand the understanding of migraine by supporting research, education, and awareness.   

This work is licensed under a Creative Commons Attribution-NonCommercial-NoDerivatives 4.0 International License.
Sign Up For An MSC Newsletter
Sign Up for MSC Content Alerts!
Receive immediate notification when a new piece of content is published on MSC! You can sign up for new article alerts, new literature recap alerts, and/or our monthly newsletter. Visit here to sign up.
JW Marriot Austin, Austin, Texas
No event found!